Shohei Ohtani
■Shohei Ohtani (大谷 翔平)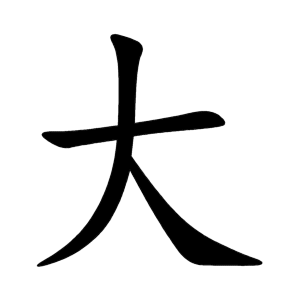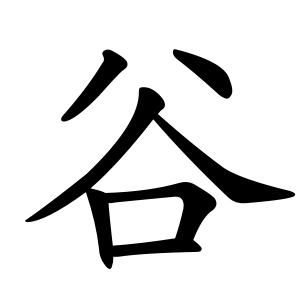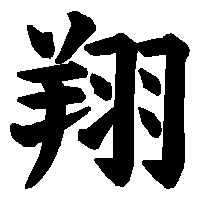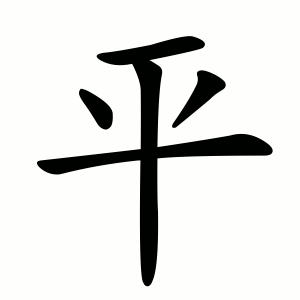 born July 5, 1994, Japan
HT/WT:6' 4", 210 lbs
Born in Mizusawa (present-day Oshu), Iwate Prefecture
Japanese professional baseball
two-way player(pitcher and hitter)

2010 -- Entered Hanamaki Higashi High School
2011 -- Participated in the National High School Baseball Championship (summer Koshien tournament)
2012 -- Participated in the National High School Baseball Invitational Tournament (spring Koshien tournament)
2013 -- Joined the Hokkaido Nippon-Ham Fighters
2016 -- Contributed to the Nippon-Ham Fighters win of the Japan Series in 2016 with his "two swords" of pitching and batting.
Made history by being named as the Pacific League's best pitcher and best designated hitter.
2017 -- Declares he will move to the major leagues.


sponsored link
Shohei Ohtani・Quotes

I hope students can find one thing to pursue their whole life, be it a sport or studying something.


I want to see how my best pitch fares against one of the best hitters.


I think it's wasteful to limit myself without any reason by saying, 'it's my limit'.


There are many people who say my baseball, but I don't care to anyone who wants to say something to me.
I do my best and that is most important.


I still consider myself far from a complete player,with so many things I must work on.


I'm always going to constantly try to make adjustments trying to get better.
That's one thing I really needed was an adjustment as a hitter at the major league level.
On the other hand, on the pitching side, I felt like I didn't really need to change much from my times in Japan.


Off the field there wasn't much that I needed to adjust.
The only thing different I can think of is I started making breakfast every day.


It was my first time making omelettes this year.
I'm pretty confident I've made more omelettes than any other big leaguer this year.


I only make what's easy, things that I can make fast.
I want to spend as little time on meals as possible,I just want to eat the essential nutrients and make use of the other time.


In Major League Baseball, many games are played consecutively.
So if I don't take naps, I won't be able to recover in time.
I make sure to get a good amount of sleep at night, and in addition to that, I take naps during the day.


I think the most important thing is sleep.


Before the first year at Major League Baseball, I visited Ichiro's home.
Of course, He gave me some technical advice, but he also said,
"you should believe your talents, what you have done, and your potential."
That words became the start for me to change.


I need to evolve.
While others are getting better every year, I cannot stay the same.


I'm not sure if everyone in America loves me,
but all I can do is give it my all and play and leave it all on the field,
and hopefully the people that are watching get inspired.


Obviously it wouldn't hurt to be able to speak English.
There would only be positive things to come from that.
But I came here to play baseball, at the end of the day,
and I've felt like my play on the field could be my way of communicating with the people, with the fans.
That's all I really took from that in the end.


Regardless of where I'm playing, I want to try to give it my all, try to win the ballgame that's right in front of me,I'm with the Angels right now.
And I'm very thankful for what they've done. I really love the team.
I love my teammates. Right now, I'm an Angel, and that's all I can really focus on at this point.


[pregame speech 2023 WORLD BASEBALL CLASSIC]

Let's stop admiring them.
They've got (Paul) Goldschmidt as the first baseman.
And look at centerfield, we'll see Mike Trout there,
and Mookie Betts in the outfield.
Anybody who plays baseball has heard of them.
If you admire them, you can't surpass them.
We came here to surpass them, to reach the top.
For one day, let's throw away our admiration for them and just think about winning.
Let's go!



[Babe Ruth's] like a mythical character to me.
Because it's such a long time ago and he was God to baseball.
I shouldn't be compared to him, at least not right now.


I agonized over the decision,But I have decided to play in America.
It's been my dream to play in the majors since I started school.
I want to play over there as early as possible.
I will learn the hard way. I understand the risks.
It's not about the money. It's about following my dream.

Shohei Ohtani・Goal Matrix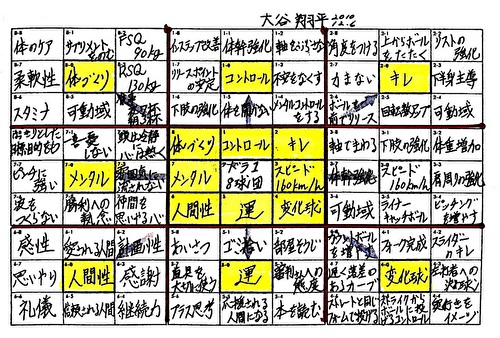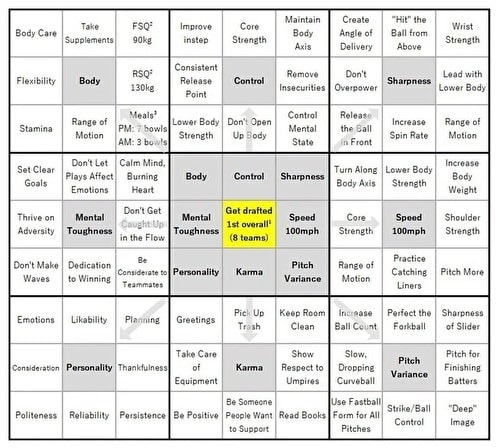 In the center, he has his North Star of being drafted to become a professional player.
Surrounding it are 9 sub-goals, which will increases the chances or help in achieving the North Star goal.
He then further breaks down the 9 sub-goals into specific action items.


sponsored link
Shohei Ohtani・BOOKS ets.
Shohei Ohtani【Amazon】
Twitter
Tweet
related articles